Indra Patra Fortress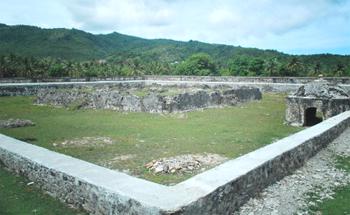 This old fort was built during Iskandar Muda time. It probably functioned as a defense against invaders. (Damaged because of Tsunami)
was built during the pre-Islamic, by the King of the Kingdom Lamuri which is a Hindu Kingdom First in Aceh, precisely at the VII century AD.
Currently, only two of the three forts are still standing strong. Main Fortress measuring 70m X 70m; with a height of 4 meters and a wall thickness of approximately 2 meters. Unique architecture, Large, made of "limestone concrete" (: mountain stone structure, with glue (estimate) of a mixture of lime, Clay, and alusan Leather Shell, as well as eggs).
In the Main fort there are two 'stupas' or a building that resembles a dome where inside / under the dome there are wells / water sources, which (at the time) used by Hindus for ablutions in the series peribadahannya. In addition, there is also a bunker inside the fort for storing guns and bunkers to save bullets and guns.